Kareem, who two years ago fled the chaos caused by the civil war in his home country, Syria, has found himself once more in the middle of a battle zone – this time in Sudan.
Now he is homeless in Port Sudan looking for a way out and fearing that he may have no choice but to return to Syria.
The 23-year-old used to work in the Sudanese capital, Khartoum, for a company that provided him with a flat, a car and a monthly salary of $500 (£400). It was enough to make ends meet and send money to his family back home, he says.
A month ago, he was even thinking of proposing to a woman he knew and had already told his mother about her.
"My life was fine in Sudan. I could not ask for more," he told the BBC in one of a series of voice and text messages explaining what had happened.
But on 15 April, when the fighting between two military forces started to destroy parts of the capital, Khartoum, Kareem felt that part of his life had been destroyed as well.
He says a Syrian man he knew well was shot and killed.
Fearful that he might suffer the same fate, on the morning of 24 April he joined a group of more than two dozen other Syrians and fled the capital for Port Sudan on the Red Sea.
The two-day road journey cost them a small fortune. In normal times, the fare would be $40 but the evacuees were charged $400 each.
He strongly believes that bad luck is chasing him and his fellow Syrians.
'We are cursed'
"History is repeating itself," says Kareem, whose name we have changed to protect his identity. "Here, we are going through exactly what we had lived through in Syria.
"We are cursed. I have not lived my life yet."
Stuck in Port Sudan, Kareem knows others who have managed to get on planes to escape to safety. One key factor seems to be about funding.
"You know, it is always about money – those who have money can always survive," he texted after charging his phone at a mosque.
Many Syrians fled to Sudan during the civil war. There is no official record of their number, but some estimates put it as high as 150,000.
He said that many Syrians, who have money or whose families are wealthy and have resident's permits in neighbouring countries, have managed to get out.
But he could not.
He is the youngest member of a modest family. He grew up in Idlib but fled to Aleppo years ago where they lived under siege. His relatives were depending on the money he used to earn in Sudan.
When he first made contact with the BBC, Kareem sounded disappointed about what was happening, but he was still hopeful.
He was listing his options: "I can go to Jeddah [in Saudi Arabia] and then find another opportunity. Or I can travel to Ethiopia – it would cost me $400."
He knew that he could not find refuge in neighbouring Egypt, as he could not pay for an expensive tourist visa.
"We ran out of money to buy food, so how would any of us borrow $1,350? I worked in Sudan for two years to save $1,000, which I have already spent [to get to Port Sudan]."
As things have progressed, Kareem's voice notes have been getting increasingly grim. His options were shrinking by the day.
He has been trying to assess his situation based on the updates he hears from officials and others while wandering around the port.
He learnt that there was no point waiting for a ship to take him to Saudi Arabia as he had no family connection there or a way to guarantee that he would not stay in the kingdom.
'Black hair turned grey'
Also, his passport is expiring soon, which would prevent him from traveling to Ethiopia or any other country.
Now he sounds numb. Desensitised. He has no updates to share.
"I swear to God, I don't feel anything any more. My black hair has partly turned grey. I may go back to Syria with no fear any more. I won't care any more. I have nothing else to lose."
He never imagined returning to Syria as this would mean doing compulsory military service. He preferred to work abroad and build a better life.
But even returning home is costly and difficult.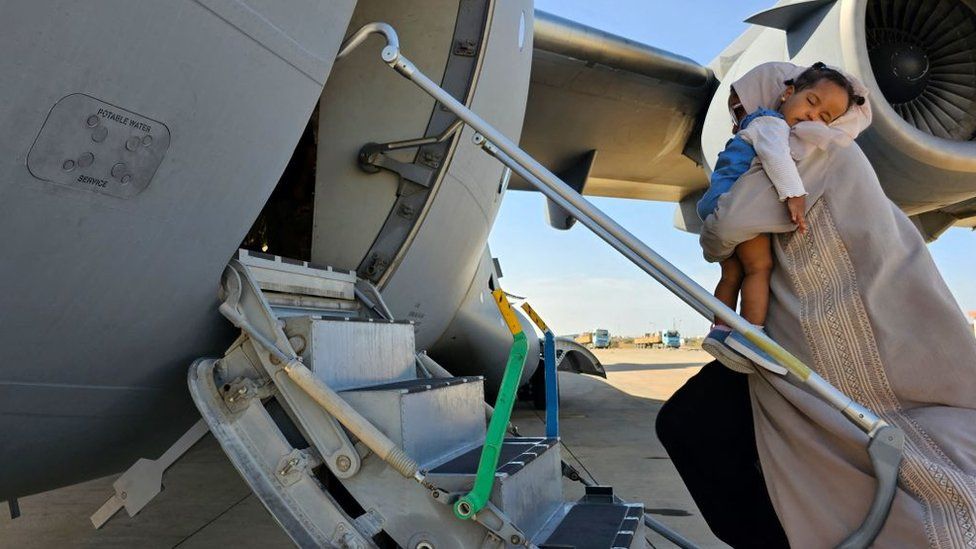 A volunteer who is helping in the evacuation at Port Sudan told the BBC that there would be daily flights to Syria until 15 May and that each flight had two categories: commercial and evacuation.
On the commercial side a ticket can be bought through travel agents in Syria, while the seats for evacuation are given for free to people whose names are on the lists.
Priority is given to elderly people, those with health problems, pregnant women and families.
A commercial tickets costs $450.
Kareem says his family has been trying to secure a ticket – but all flights were booked, they were told.
"All problems could be solved with $3,000," he says while explaining his dream plan.
"I can renew my passport with $300, then I pay for the visitor visa to Egypt and then I can go to Turkey, where my sister lives. Then I can find a way to go to Europe."
"But who can lend me $3,000 these days?"