From the depths of despair, Libianca created a song that changed her life.
People (Check On Me), a tender cry for help that captured her at a crushing low point, has been streamed more than 150 million times since December.
It's been number one for eight weeks on the UK's Afrobeats chart. This Friday, it's poised to enter the official Top 10 – a first for an artist from Cameroon. [Update: People (Check On Me) rose to number eight on 10 March, 2023].
"My whole life changed in a matter of hours," says the singer. "I woke up in the morning and things had just flipped over."
If you've heard People, you'll know it from the hook alone.
"I've been drinking more alcohol for the last five days… Did you check on me?" sings the 22-year-old, her voice melancholy and mellifluous over a simple music box accompaniment.
The lyrics discuss her experience of the rare mood disorder cyclothymia, which causes emotional ups and downs that are similar to, but less extreme than, those of bipolar disorder.
She wrote the song last November, after throwing a Thanksgiving party where she "felt invisible".
"I'd been at a low point of my life for at least two weeks and I was just like, 'I can't take any more of this'," she explains over the phone from Paris.
"There were self-harmful thoughts, over-thinking, really anxious – a bunch of things going on in my head."
While her friends were celebrating, Libianca spent much of the night crying in the bathroom.
When she came downstairs, no-one noticed her puffy red eyes. No-one asked how she was. They simply offered her a drink.
"I felt like I was drowning in it and nobody could see me and I just needed some help.
"So I decided, you know what? Let me just go in the studio, because I feel better whenever I've done something productive. That helps me.
"I wasn't expecting for People to come out. It's just how I was feeling. I couldn't write about anything else."
'This song has been my best friend'
Retreating to the studio in her Minneapolis home, her feelings flooded out unfiltered.
The hook, she says, is the "raw truth" about her drinking. For days, she'd been consuming tequila and Ouzo with wine chasers in an attempt to blot out her depression.
"Whenever I was drunk, I didn't feel sad, so why not just drink some more?" she recalls.
"Clearly, after a few days, I was like, I can't keep going like this. I can't keep waking up every morning hung over."
But the key to the song is the repeated refrain of "did you check on me?" It's a post-pandemic plea to ask your friends how they're really coping.
"After Covid, I feel like a lot of people became isolated. And no matter what anybody is going through, if you ask them, 'How are you doing?', the first thing they're going to say is, 'I'm fine'. It's an automatic response.
"And I think what People is doing is breaking that [spell] and helping people to be more vulnerable and say, 'I'm not doing well. I really need a hug from you right now'.
The reaction has been overwhelming.
One fan commented under People's YouTube video: "As I'm going through my fourth panic attack of the day…. This song just makes me feel like I am not the only one."
"This song has been my best friend for the past few weeks," wrote another, who said Libianca's music had comforted her after losing a child.
The comments page is full of similar stories. Encouragingly, it's also full of strangers offering support and consolation.
"I couldn't be more proud," says Libianca, "because it's really helping people get the support they need.
"And it helped me as well, because my friends didn't know that's how I was feeling when I recorded that song."
Near death experience
The message has resonated globally. People is at number three in India, number five in New Zealand and number one in Nigeria.
For Libianca, it's the culmination of more than 10 years as a musician, and a vindication after a stint on the US version of The Voice in 2021.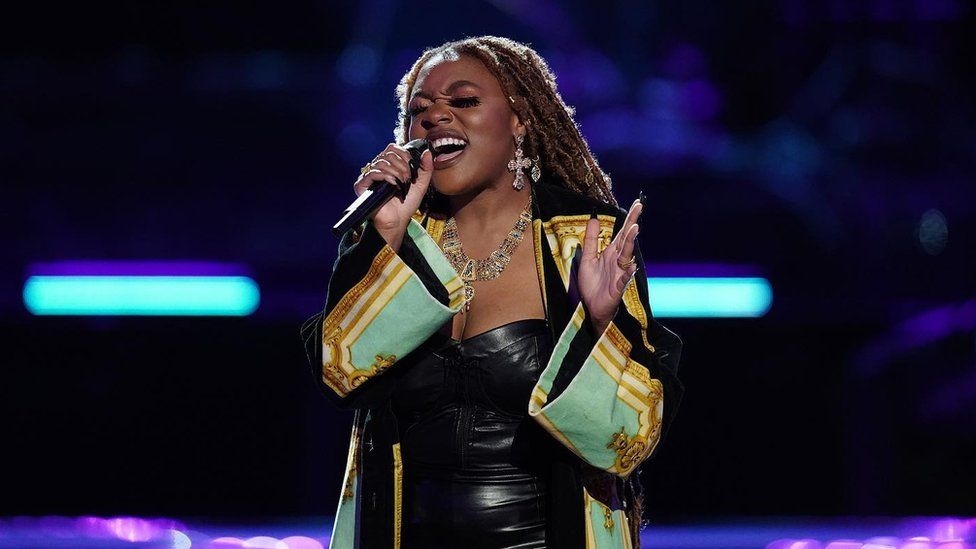 She was born Libianca Kenzonkinboum Fonji in St Paul, Minnesota, but left the US for Cameroon when she was four. Her mother was "going through some issues with immigration", she explains, and decided to leave before being deported.
Settling in Bamenda, she started singing around the age of six, exercising her vocals "in church, in the boarding school, in chapel".
"Music was a huge part of everything."
The family moved back to Minnesota when she was a teenager and, although she harboured musical dreams, her parents encouraged her to pursue medicine and become a registered nurse.
"I can't blame them," she laughs. "Parents work so hard to come to this country and give us opportunities, and music is a big risk."
Even so, her mother paid for voice lessons and guitar tuition, while her father briefly acted as her manager.
To keep them happy, she took a number of jobs while writing in her spare time.
The worst experience was in a nursing home where, while taking residents out for a swim day, she was accidentally pushed underwater, lost her footing and almost drowned.
"Luckily, somebody saw me and jumped into the pool to pull me out," she recalls.
Worried that she wasn't making headway in music, she applied for The Voice, impressing judges with a soulful rendition of SZA's Good Days, and progressed to the live shows before being voted out.
"I'm a very competitive person," she recently told BBC World Service DJ Edu. "I don't like to lose. So when I got eliminated, I was like, 'I was doing so good on this show and I didn't win? Are you serious! Something's wrong!'"
But the show also taught her a valuable lesson: "Just when you think you're at your full capacity, trust me, you're not. You can push yourself even further."
Some of the songs she performed on the show – including a cover of Billie Eilish's Everything I Wanted – got an official release while the series was on air.
But it's noticeable that Libianca's solo material has veered more towards Afrobeats. On People, she even sings in her Cameroonian accent.
"I code-switch a lot," says the singer. "So at home, most of the time, you hear me in my Cameroonian accent, then [outside] I will switch to an American accent because half of my childhood was in America. It happens without me even knowing.
"But when I get really angry," she laughs, "all you'll hear is the Cameroonian accent!"
For now, there's little to be angry about. Libianca's on a whistle-stop promotional tour of Europe before jetting home to work on new music, for release late this year.
"I'm feeling really good," she smiles. "I feel like everything is starting to settle and I'm like, this is actually happening!
"I don't have that much stress any more because I've literally accomplished the first of many milestones in my career, and I couldn't be happier."
Source: BBC