When Thailand decriminalised cannabis in June, Audsada Kantama was eager to get in on the action.
The 32-year-old had used marijuana daily since his late teens and moved quickly to add the newly legalised substance to the menu at his coffee shop, Ya Jai Cafe, in the northern city of Chiang Rai.
"I sell [cannabis] flowers now," said Audsada, who goes by "Neck".
"We also have legal edibles in the form of craft soda. But I look forward to selling [other] edibles too because some customers are asking for them. Some of them cannot smoke cannabis."
His cafe is located on the outskirts of town well off the tourist trail, and most of his customers are Thai, but he is making on average about 14,000 Thai baht ($600) a day, more than half of a whole month's average salary.
"The price in my shop is cheap. So on average there will be around 30 to 50 people per day. Some take it home but some smoke here at the shop," he said. "They might not know their limit, might slip and knock their head down at home. So smoking here is better because you can practise to control yourself."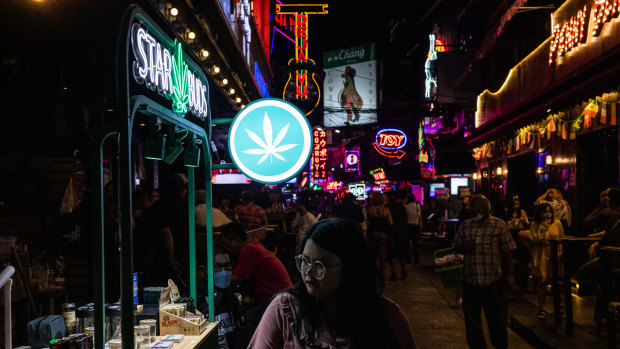 The country has suddenly become a new wonderland for weed enthusiasts, with more than 5000 licensed dispensaries popping up in the capital Bangkok and around the country, and the availability of cannabis-infused products such as food and drinks growing rapidly.
The decision to remove the drug from the narcotics list allows people to grow plants at home, to buy it from approved operators and to use cannabis products for medical reasons. It was made to boost the country's tourism and wellness sectors, which had taken a devastating blow during the pandemic, as well as agriculture.
It has fast become a thriving business, particularly in the major centres.
Thanathip "Tum" Rattanaroj, who owns the Gods Gift cannabis outlets in Bangkok's popular Sukhumvit district and in Pattaya, averages about 100 people through the door a day at each branch.
Between over-the-counter sales and wholesale distribution from the three marijuana farms he also runs, his company is turning over between 6 and 7 million baht a month.
"The reason I started a cannabis business is because I thought it's much better than alcohol and other drugs," said the 39-year-old, who is also a committee member of Thailand's anti-money laundering and narcotics commission.
"It's just a herb. A herb that really helps with the economy and with the medical side. My family have a herbal factory as well. My growing process is quite big, so I do research as well as growing too."
Government forecasts last year said the industry would generate annual revenues of more than 10 billion baht.
But with the smell of marijuana now a ubiquitous feature of many streets in Bangkok and elsewhere, not everyone favours Thailand's new income stream and its emergence as an Asian Amsterdam.
Recreational use is technically banned but widespread and remains a grey area with legislation held up in parliament. The policy shift, the first in the region, also now shapes as a key issue ahead of national elections in May.
The drug's delisting has been called into question by organisations including the Medical Council of Thailand, which in September released a joint statement with 16 other groups of health professionals warning of harmful consequences if marijuana was used for anything but supervised medical purposes.
Opposition parties Pheu Thai and Move Forward have also challenged the liberalisation, blocking the passage of a proposed cannabis and hemp control bill, as has the Democrat Party, the third-largest group in Prime Minister Prayut Chan-o-cha's ruling coalition.
On the other side of the debate is Anutin Charnvirakul, public health minister and a deputy prime minister, whose Bhumjaithai Party – the second-biggest in the governing bloc – won wide support campaigning for decriminalisation before elections five years ago.
"It's going to be a big fight in the election," said Termsak Chalermpalanupap, who heads the Thai studies program at the ISEAS-Yusof Ishak Institute in Singapore.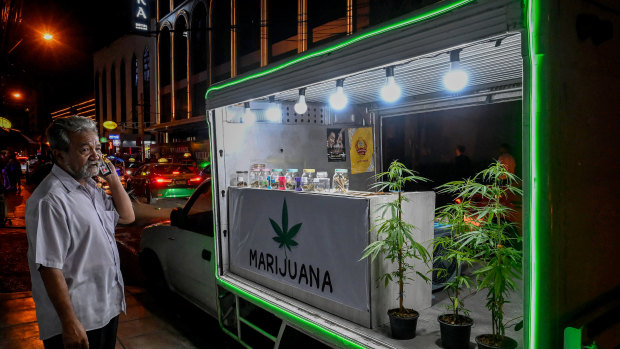 Chalermpalanupap asserts in a new academic paper that cannabis was legalised hastily and without proper control measures. He says "the continuing ambiguities about 'free marijuana' remain a serious public health threat to Thai society".
He adds in the paper that "illicit trade and recreation use of marijuana have created serious concerns not only in Thailand, but also among fellow ASEAN members for whom marijuana remains a banned narcotic".
Chalermpalanupap told The Sydney Morning Herald and The Age this week it was "very difficult" to stop recreational smoking and also raised doubts about whether identification checks for customers, which have been introduced, would make any difference to who buys cannabis, and for what purpose.
"You can buy marijuana almost everywhere in tourist areas," he said. "In Thailand, ID is not that important. Money is more important".
There are other measures in place that are intended to regulate the market. There is a limit on the potency of the cannabis that can be sold: only products containing less than 0.2 per cent of tetrahydrocannabinol (THC), the chemical that gives users a high, are legal.
People under 20 years of age are also barred from buying marijuana and there are penalties of up to 25,000 baht or three months jail for smoking it in public. There are also no sales allowed online or through vending machines.
There have been instances of inspections and arrests of vendors discovered to be flouting the rules.
But amid reports of a four-fold rise in addiction to cannabis after the law change, even those in the business acknowledge significant holes in the system.
"To do testing, for example, [on the strength of cannabis being sold] I think it's impossible because the price of checking THC is very expensive," said 35-year-old Piyatat "Fang" Didsayothin, who operates a premium cannabis farm called Sweet and High in Chiang Rai with his business partner Priraphong "Jackie" Lertkraiwan, 34.
"For portable devices it's not accurate at all. And the government has to spend a lot more money for equipment to cover all of the shops."
Piyatat, who used to run a skateboard shop before he opened the farm, and Lertkraiwan only sell cannabis flowers, mostly wholesale to shops in Bangkok and Chiang Mai.
They donate many of the roots and leaves from the plants they grow to cancer patients and believe very much in the merits of marijuana being used in traditional medicines to treat health ailments, as it was for centuries in Thailand before being outlawed in 1934. "Patients have more chance to be healed now," Piyatat said. "Now is a lot easier compared to the past."
It is a view shared by Audsada, the cafe operator in Chiang Rai, who agrees the government has little power to manage the consumption of marijuana as it stands.
"I think the protocol from the government is still not clear," he said. "I think they still don't have anything clear to control the use of cannabis now."
"[But] why do they have to control the right of choosing the way people relax in a private area?"
"People who use cannabis understand it but people who don't understand still think that we are junkies. But why? People I know that use cannabis all have very good careers. Most of them use it to relax. Some of them use it for meditation, some to relieve themselves after work, some for help with sleeping."
In Bangkok, Thanathip, the shop and farm owner, also allows customers to smoke inside his premises in order for newcomers in particular to be monitored.
Like Audsada, he is of the view that the government should not concern itself with trying to crack down on recreational use.
"In my opinion we cannot prevent recreational use because it's just a word. For me, it is the same. If I've got a headache but I just need to smoke to relieve the headache, is it OK? Is this medical?
"Instead of worrying about cannabis, the government should worry about the other substances and drugs. The government should be thinking about the quality of the flowers, how they grow, where it's from, rather than preventing or controlling recreational cannabis.
"Thailand is the only country in Asia [to legalise marijuana]. We can be the biggest cannabis hub in the world."