In a season of landmarks, Victor Osimhen's latest goal in Serie A brought him another record.
The Nigerian's strike against Fiorentina on 7 May was his 47th in the Italian top flight, taking the Napoli striker past Liberia's George Weah and making him the top African scorer in the league's history – a notable achievement given that former AC Milan star Weah is the only African ever to win the Ballon d'Or prize given to the world's best footballer.
But the two goal-hungry forwards are far from the only Africans to make a mark in Italy. BBC Sport Africa takes a look at some of the facts and figures for players who scored success after crossing the Mediterranean.
The trailblazer and the record breaker
By and large, African players arriving in Italy can be divided into two categories: young prospects and established stars.
Osimhen and Weah fall squarely into the second category, as do Ghanaian idol Abedi Pele, who won a Champions League title at Marseille before joining Torino in 1994, Samuel Eto'o, one of the main protagonists of Inter Milan's treble in 2010, and Mohamed Salah, who was loaned to Fiorentina by Chelsea in January 2015 and then sold to Roma six months later.
Then there are the likes of Ghana's Sulley Muntari, scouted by Udinese at 16 years of age and successful at both Inter and AC Milan, and Senegal's Khouma Babacar, who also arrived at Fiorentina as a teenage youth prospect and went on to play for a further five Italian clubs over more than a decade in the country.
But you might not have heard of the first African ever to feature in the Italian league.
Francois Zahoui, a 19-year-old striker from Ivory Coast, made his Serie A debut for Ascoli against Fiorentina on 28 October 1981.
He played 11 times across one season, often being given the unusual task by his manager, Carlo Mazzone, of coming onto the pitch as a late substitute and deliberately getting caught offside to waste time.
Rumour has it the teenager turned up for his first training session barefoot, just as he was used to doing back home, but he went on to put his stamp on Ivorian football as coach of the men's national team between 2010 and 2012, as well as having spells in charge of Niger and Central African Republic.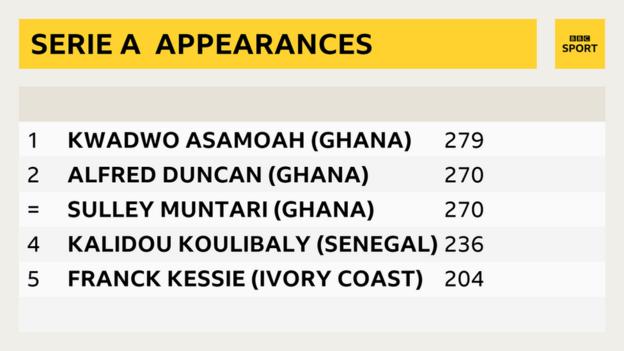 Zahoui's 11 Serie A appearances pale in comparison to Kwadwo Asamoah, who holds the record for an African.
The Ghanaian, who turned out for Udinese, Juventus, Inter and Cagliari, played 279 times in Serie A, just nine ahead of compatriots Muntari and Alfred Duncan. Senegal skipper Kalidou Koulibaly comes next with 236 appearances for Napoli.
This season, 15 African nations have been represented in the top flight by a total of 45 players making at least one appearance.
Nigeria leads the way with eight players, followed by Morocco and Ivory Coast who each have six. Four players have represented Ghana and Cameroon, three from Algeria, The Gambia, and Senegal, two from Equatorial Guinea and one each from Angola, Mali, Guinea, Zambia, Sierra Leone and Tunisia.
Top scorers
While Zahoui was the the first African to play in Serie A, Senegalese defender Roger Mendy was the first to score.
Having joined newly-promoted Pescara, he netted to help his side register a 2-0 home win against Brescia in February 1993. A significant goal for Africa but not for Pescara who were relegated at the end of the season.
African goals have been a constant in the Italian football landscape ever since.
Just behind Osimhen and Weah, Ivorian Franck Kessie managed 41 in 204 games for Atalanta and AC Milan before his move to Barcelona.
Senegal striker Keita Balde also hit 41 for Lazio, Inter, Sampdoria and Cagliari.
Further down the list come Cameroon legend Samuel Eto'o and Salah, each with 35 goals.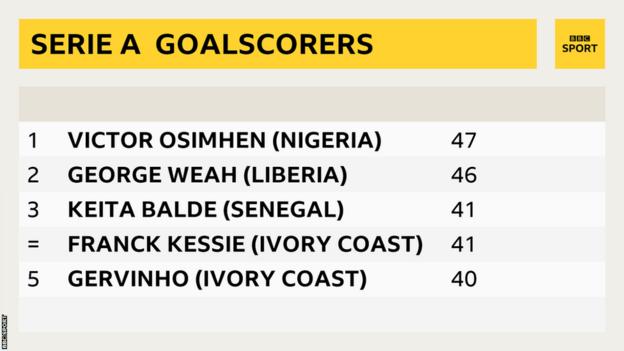 What stands out about this current season is the fact that, with four games left to play, four of the league's top five scorers are African.
Lautaro Martinez is the man immediately behind Osimhen, but after the Argentine come Senegal and Salernitana forward Boulaye Dia, Nigeria and Atalanta wideman Ademola Lookman, and Angola's and Spezia's M'Bala Nzola.
In total, the four Africans have a combined 64 goals between them.
If that was not enough, Malawi and Inter star Tabitha Chawinga is top scorer in the women's league.
It is also worth noting that the last two winners of Serie A's player of the year award are of African origin: Romelu Lukaku from Belgium and the Democratic Republic of Congo, and Rafael Leao who plays for Portugal but is of Angolan descent.
Osimhen the record breaker
Osimhen overtaking Weah's Italian goalscoring record did not go unnoticed in Africa.
Indeed, the great man himself, now president of Liberia, offered "heartfelt congratulations".
"I am truly proud of your exploits," the 56-year-old said in a statement on social media.
"When I won my first Scudetto with Milan, I said to myself, why one, why not two? I went on to win the Ballon d'Or. So why not two or more for you, Victor? The sky is your limit.
"There are many great African players in European leagues. They are already up against the hurdles of playing against many odds…so to beat the odds and climb to the top is worth our commendation."
The pair are the only Africans to score at least 10 goals in three consecutive seasons, with Weah achieving the feat in campaigns ending between 1996 and 1998.
Meanwhile, Osimhen's tallies over the last three seasons have grown in conjunction with Napoli's league finishes: 10 goals and fifth place in 2020/21; 14 goals and third place in 2021/22; 23 goals and the long-awaited Scudetto triumph this season.
Iconic moments
Be it spectacular goals, outlandish celebrations or crazy hairstyles, Africans have also been responsible for some iconic moments in Italian football over recent decades. Here are just a few.
George Weah's full-pitch slalom – AC Milan v Verona, 8 September 1996
It is not often you see a player score having carried the ball almost the entire length of the pitch, but that is exactly what George Weah did at the San Siro following a corner for the visiting team.
The Rossoneri striker picked up a loose ball inside his own box and sprinted forward unchallenged until halfway, at which point he started knocking Verona defenders to the ground like ninepins, somehow emerging with the ball from a tangle of yellow-shirted bodies strewn on the turf.
He then proceeded to poke the ball one side of a final opponent before running around the other side and firing low across the goalkeeper from just inside the penalty area.
Majestic, powerful and graceful, his solo run endures as one of Serie A's greatest ever goals.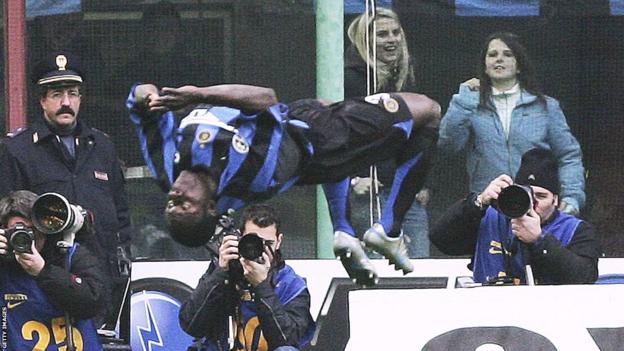 Obafemi Martins' acrobatics – Inter Milan v AC Milan, 13 May 2003
After first playing for Reggiana, Nigerian forward Obafemi Martins made his name at Inter Milan, whose fans loved him not only for his goals but also his flik-flak celebrations. No one in Italy had ever seen anything as spectacular!
His most high-profile strike came in the 2003 Champions League semi-final – a derby against AC Milan. After the first leg ended 0-0, Martins' late equaliser in the second match gave Inter brief hope of reaching to the final.
Sadly for Oba Oba, as the Nerazzurri faithful called him, the game ended 1-1, allowing Milan to progress on away goals.
But his six tumbles and pop-eyed, screaming celebration remain iconic.
Taribo West's hair-raising style – Schalke v Inter Milan, 17 March 1998
Along with the likes of Ronaldo and Diego Simeone, Taribo West was one of the rocks upon which Inter built their Uefa Cup-winning side in 1998.
The Nigeria defender scored the decisive extra-time goal in the quarter-final against German side Schalke.
But he is largely remembered for his colourful hair which was died blue and white during his Inter days.
The braids changed to red and white when he crossed the city to join rivals AC Milan, although he only played four times for the Rossoneri so perhaps the new style did not really suit him.
A colourful character in more ways than one, West, who won an Olympic gold medal in 1996, is now a pastor back in Nigeria.
When Cameroon shocked the world – Cameroon v Argentina, 8 June 1990
Francois Omam-Biyik signed for Sampdoria in the summer of 1997 but football fans across Italy already knew about the Cameroonian striker.
Seven years earlier, in opening match of the 1990 World Cup in Milan, his header against Maradona's Argentina had shocked the entire planet as the Indomitable Lions defeated the reigning world champions 1-0.
Omam-Biyik played just six times for Samp, never starting a game, but he had already done enough to make him a legend in Italy.